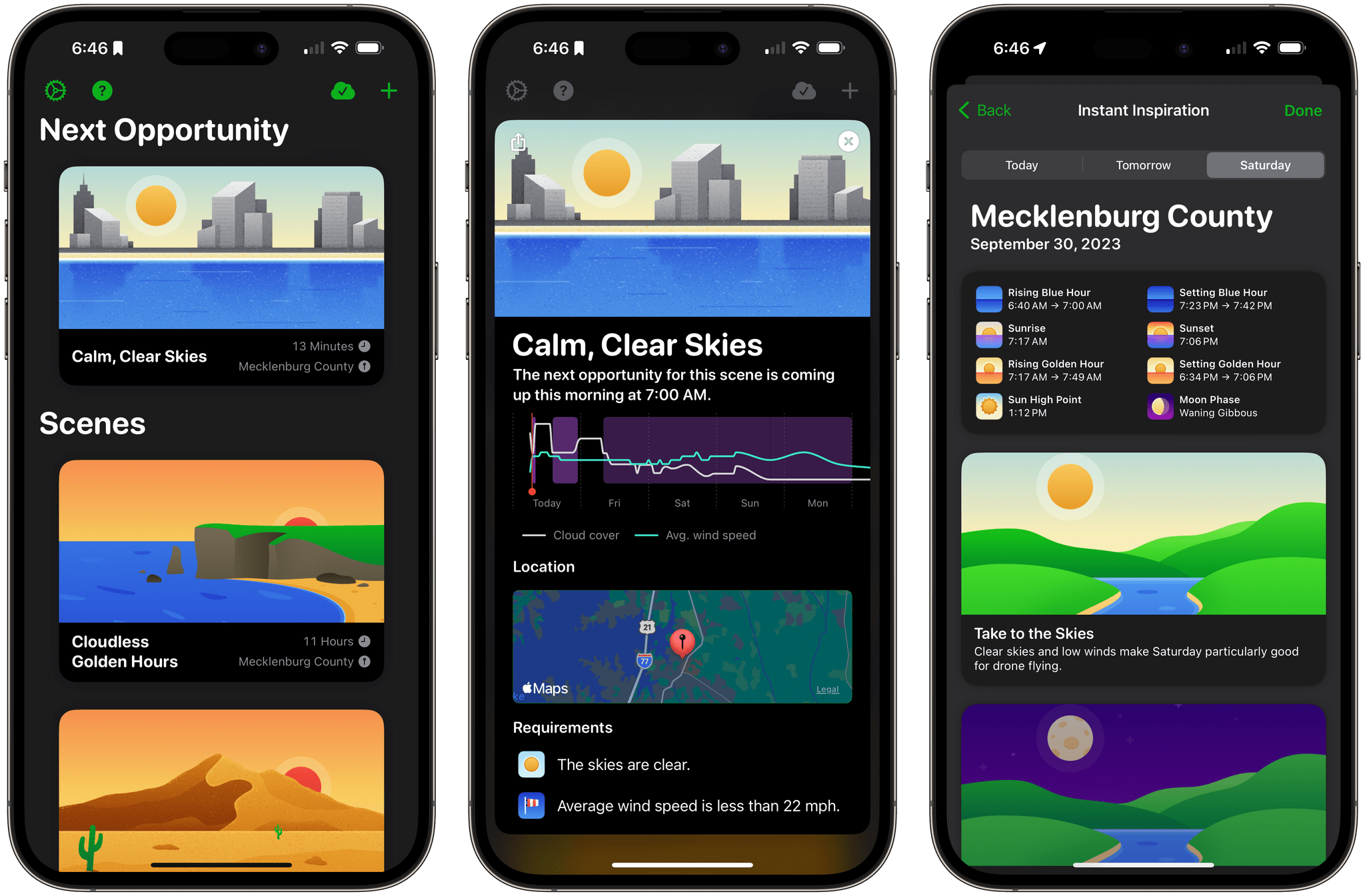 Taking a great photo requires a lot of variables to fall into place. It's amazing when this happens by happenstance, but what if you could stack the odds in your favor? That's the question Photo Scout by Cascable answers.
Photo Scout, available for the iPhone and iPad, combines location data with weather conditions, date and time information, sunlight, and night sky variables to recommend when you should grab your camera or drone and head out for a photo shoot. The app can account for many variables, but what's best about Photo Scout is that it makes managing them simple.
To help get you started, Photo Scout offers templates for common scenes like:
Dramatic Sunsets
Crisp Winter Days
Calm, Clear Skies
Rainy Streets at Night
and more
In all, there are seven preset scenes, which are accessible from the '+' button in the app's top right corner. When you pick one, you'll be prompted to use your current location or search for another, which is perfect for planning a trip in advance. That's all there is to setting up a template-based scene unless you want to edit it further. When you return to the app's main view, you'll see that your scene has been added as a card that includes its name, when it will occur next, and location.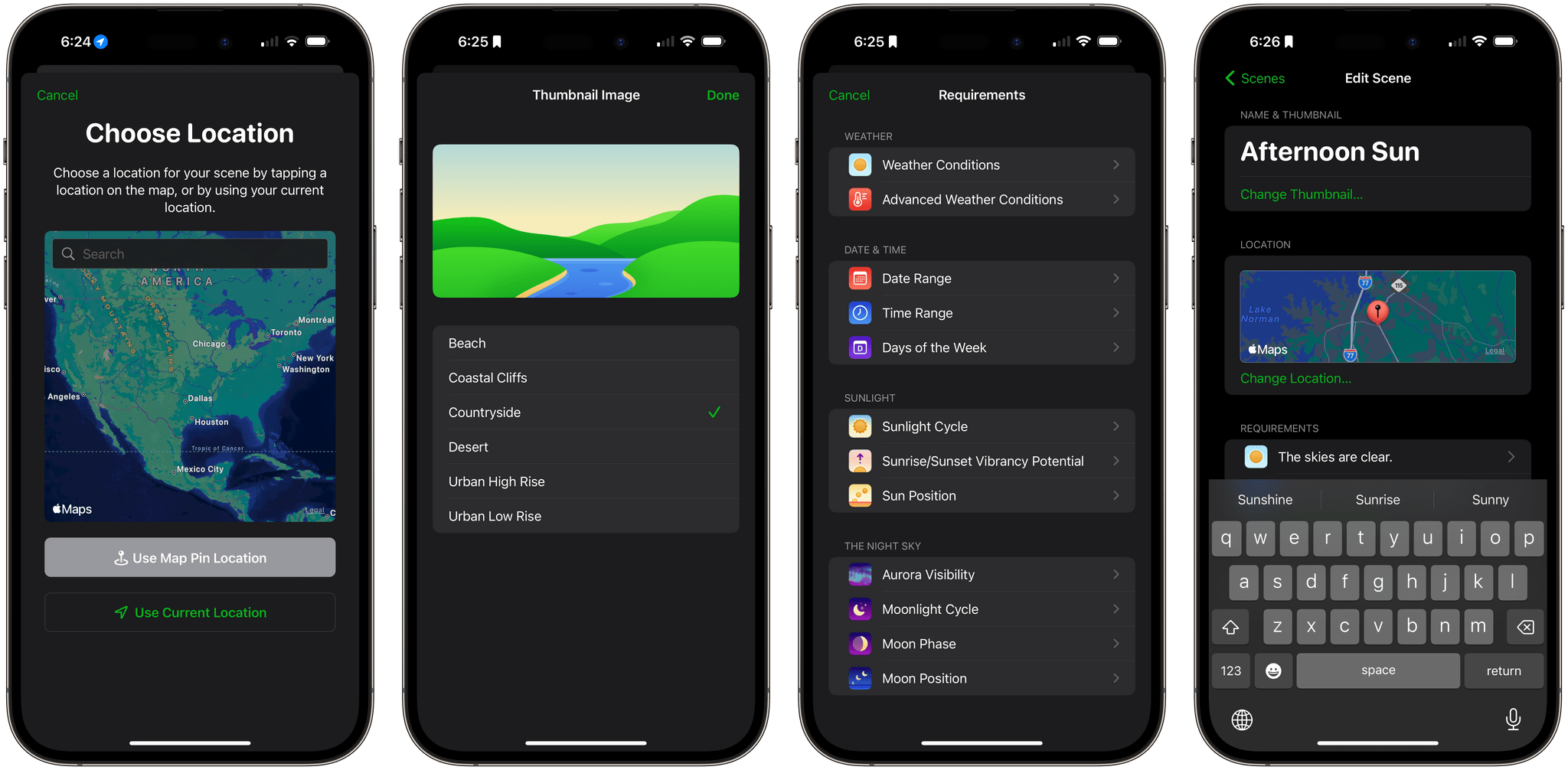 Scenes can be built from scratch by choosing 'New Empty Scene,' too. Like using a template, you'll be prompted to pick a location. However, you'll also be able to set each of the app's tracking variables individually. There are multiple options for day, date, and time options, plus weather, sunlight, and night sky conditions.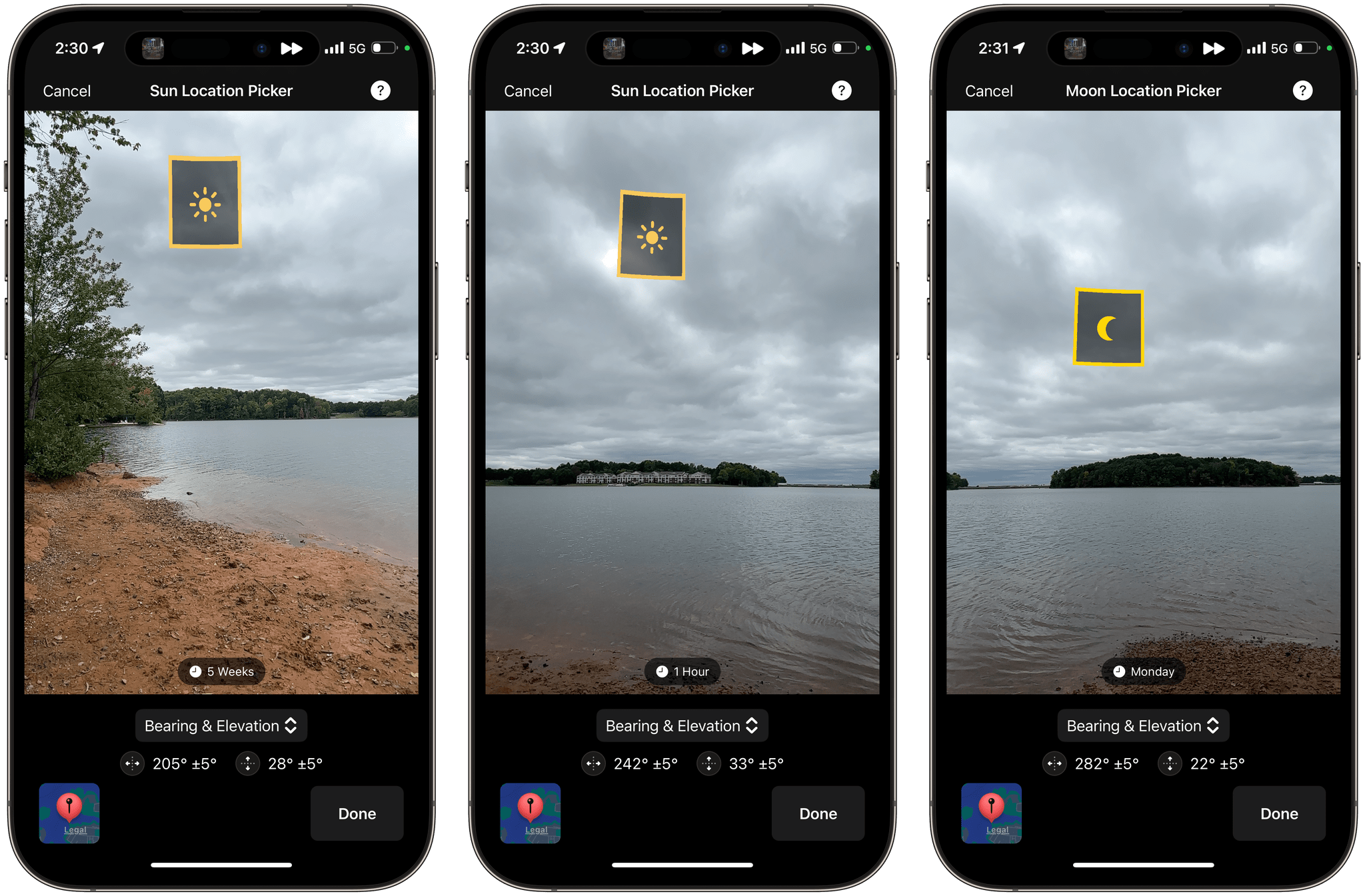 Photo Scout also includes augmented reality modes for the sun and moon positions that use the iPhone's camera viewfinder to let you point at a spot in the sky, tap it, and see when the sun or moon will be in that position next. That position becomes the basis for its own scene so you know when to return to that spot to get the shot you want.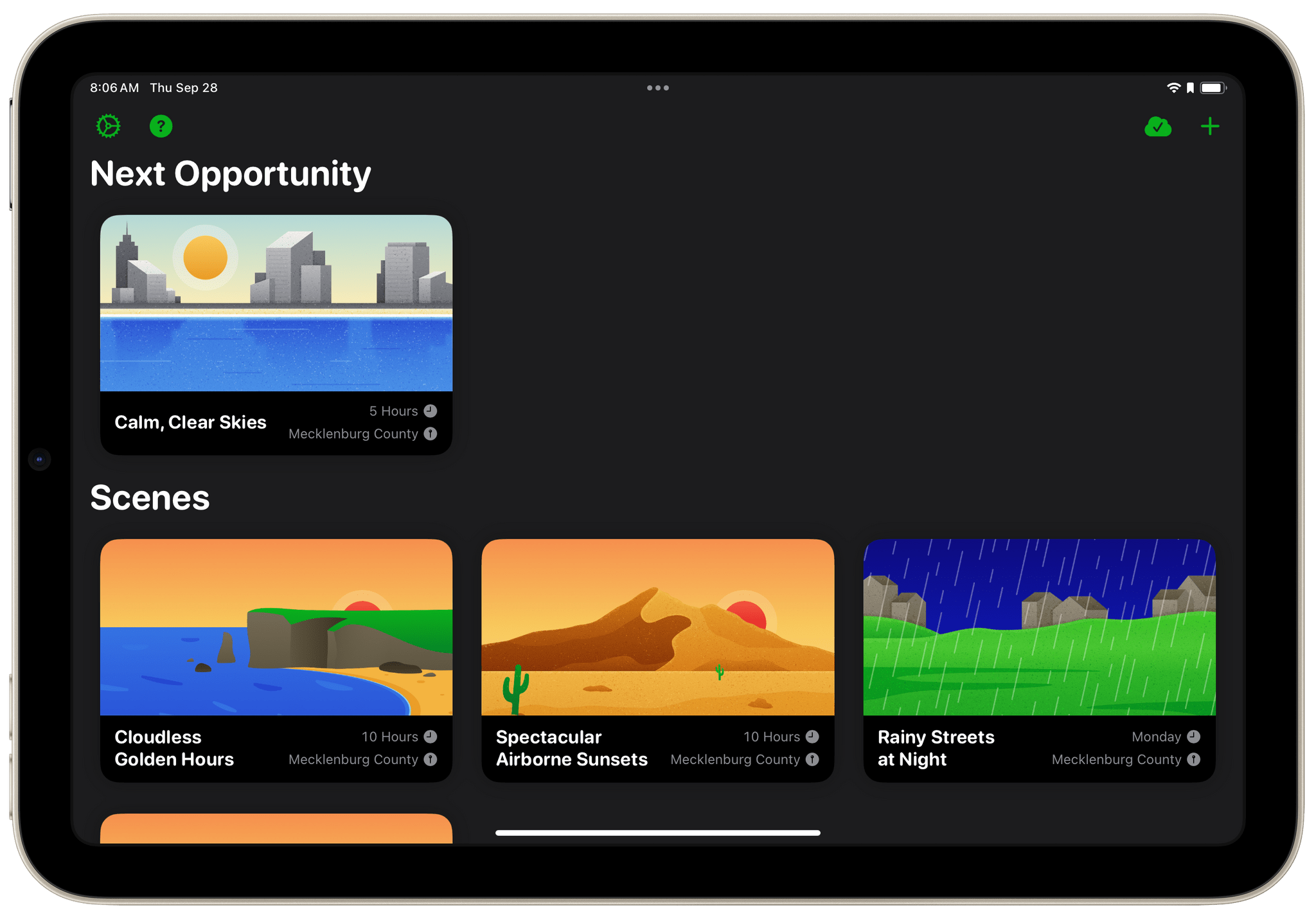 After your scenes have been created, Photo Scout will send you notifications in advance of whatever event you're tracking, so you know when to head out with your camera. You can also track events from the app's small and medium-sized widgets, of which there are three types. 'Up Next for Scene' will show you when one of your scenes will happen next, 'Up Next Near Me' will display your next scene opportunity based on where you are, and 'Upcoming Near Me' does the same but as a list of multiple upcoming scenes.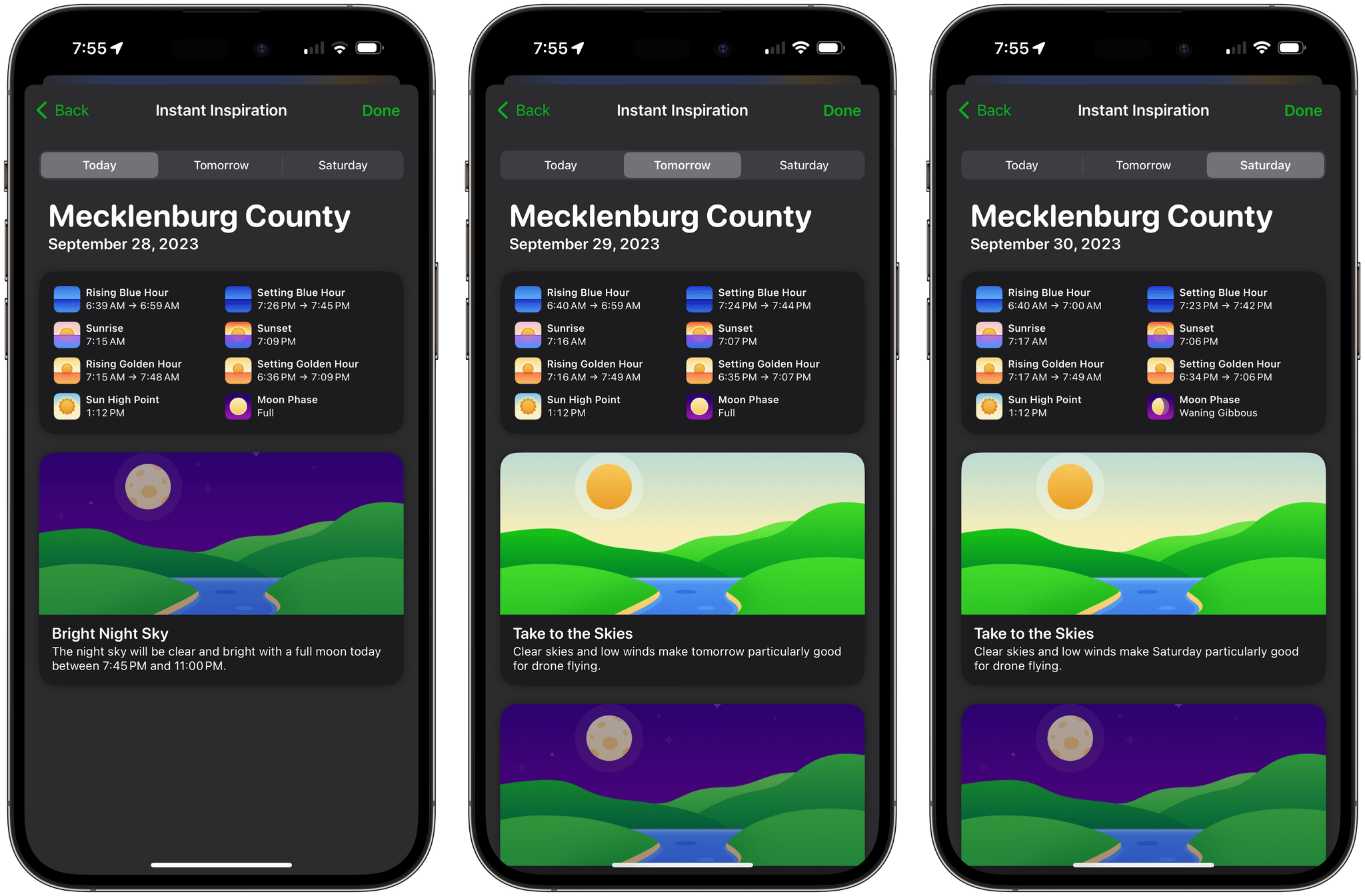 Photo Scout also includes a feature called Instant Inspiration that I love. It's entirely automatic, offering suggestions based on the conditions over the next few days for a location you pick. Looking ahead to the weekend, it looks like Saturday will be a good day for drone photography with clear skies and low wind, and there will be a full moon that night. What's great about Instant Inspiration is that it's entirely frictionless.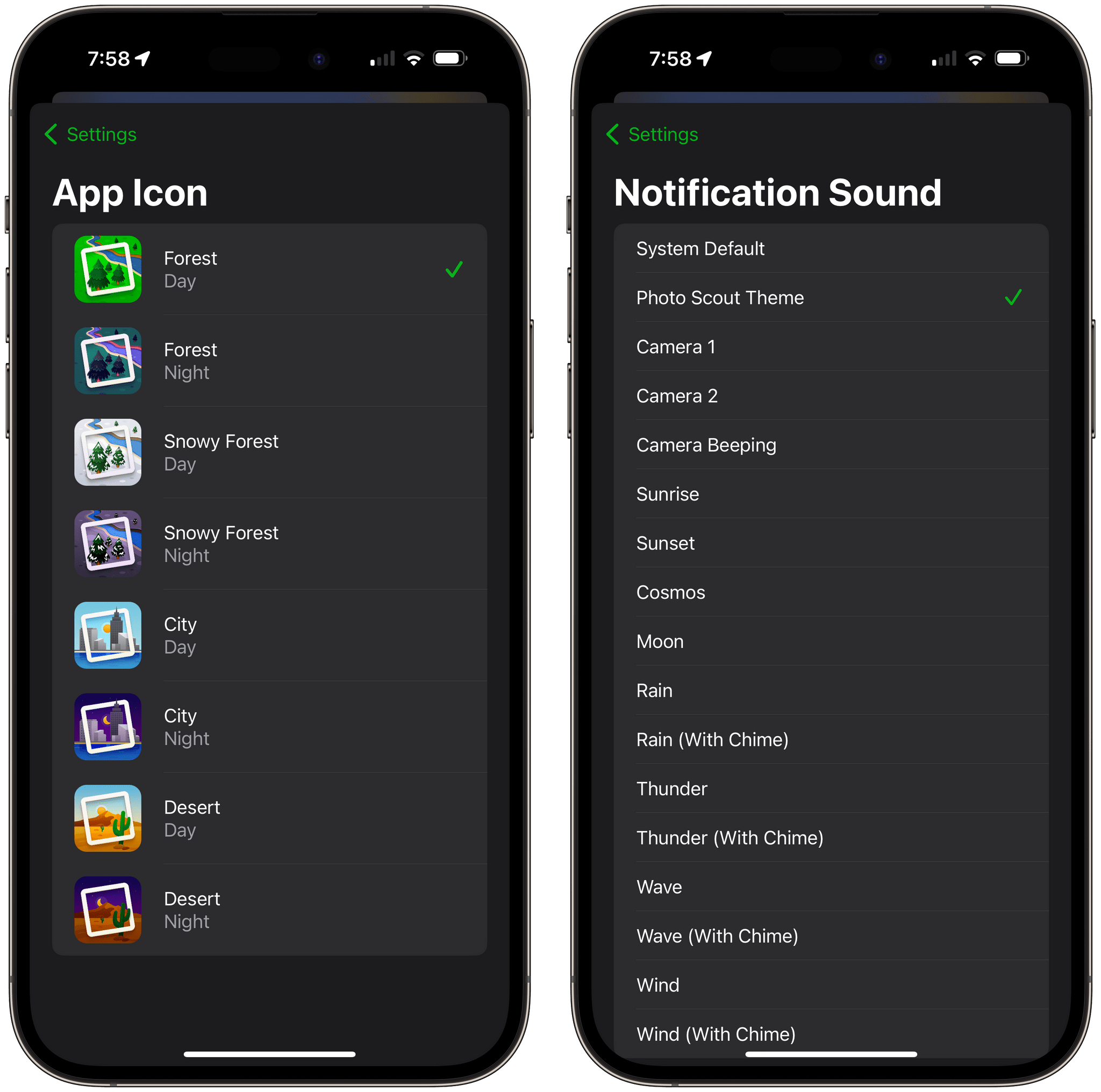 It's worth noting that Photo Scout also features eight alternative icons and a long list of customizable notification sounds.
I'm slowly getting back into taking more pictures now that my life has settled down, and I've really enjoyed using Photo Scout as part of that. There's still plenty of room to stumble upon an interesting shot as you move through your day, but with Photo Scout, you can increase the odds of capturing a great sunset and much more, which is fantastic.
Photo Scout is available on the App Store as a free download with a one-week free trial. After that, you must subscribe to either its Hobbyist subscription for $3.99/month or $24.99/year or its Professional subscription for $4.99/month or $39.99/year, which includes more features than the Hobbyist plan.
---
Support MacStories and Unlock Extras
Founded in 2015, Club MacStories has delivered exclusive content every week for over six years.
In that time, members have enjoyed nearly 400 weekly and monthly newsletters packed with more of your favorite MacStories writing as well as Club-only podcasts, eBooks, discounts on apps, icons, and services. Join today, and you'll get everything new that we publish every week, plus access to our entire archive of back issues and downloadable perks.
The Club expanded in 2021 with Club MacStories+ and Club Premier. Club MacStories+ members enjoy even more exclusive stories, a vibrant Discord community, a rotating roster of app discounts, and more. And, with Club Premier, you get everything we offer at every Club level plus an extended, ad-free version of our podcast AppStories that is delivered early each week in high-bitrate audio.
Join Now